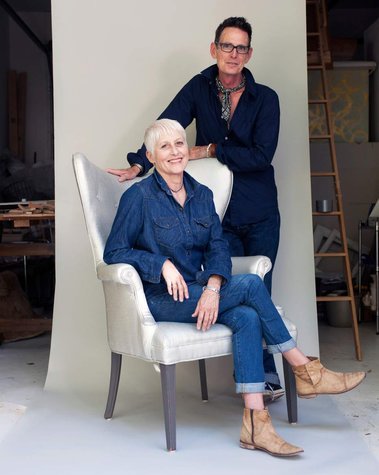 We are Owen Masterson and Christine Anthony, the photography/filmmaking/husband/wife team working as Anthony-Masterson based in Palm Springs, CA.
We began shooting in 2000 determined to combine our individual talents. Before that Owen was working with some of the best cinematographers in Los Angeles as an actor and Christine was an in-demand food and prop stylist. We had both spent a lot of time on sets observing what it took to get a great shot. Inspired, we picked up a camera and a bunch of film and began shooting. We started with food, then people and travel and product and eventually moved into shooting interiors.
People are often curious about our process. We collaborate on the lighting and composition of all our shots. These days Owen takes most of the photos and does all of the post production. Christine produces the shoots, handles the business, focuses on styling and will pick up the camera for travel stories.
In 2008 we acted on a long held desire to make our pictures move and began experimenting with filmmaking. This led to our producing over 80 short films and two award winning (including an Emmy) feature length documentaries.
Working in both mediums provided great balance. Plus we got to travel a lot and work with some extraordinarily talented and interesting people. We produced our last short in 2019.

Audi / Atlanta Homes & Lifestyles / Atlanta Magazine / Atlanta Magazine's HOME / Bank of America
Better Homes & Gardens / Beverly Baribault Design Group / Cantoni / Cottage Style / Country Home / Dixon Rye
Elegant Homes / Georgia Organics / Harrison Design / Heath Ceramics / Insidesign / LaBov & Beyond
Magnolia Journal /MLK Studio / Palm Springs Life Magazine / Natural Health / ReFresh
Redefined Home Boutique / Ritz Carlton / Story Worldwide / Shape / Southern Home / Traditional Home
Trillist / Veranda / Volkswagen /Where Traveler / YOO Design Studio